Dulu buat entry sorang2 ikut masa lapang, sekarang kena buat tunggu z.i tido. beza memang berbeza! sebulan dah berlalu, sebulan pertama ni memang penuh cabaran bagi mommy yang melahirkan anak pertama. takde experience and tak tau baby nyer karakter kan?
z.i tak mau tido
bayangkan la baby belum abis hari tak mau tido. kalau dia nak letak bawah takpe, ni dia nak pangku or riba. nak orang angkat. huhu. penat gak la dalam keadaan lemah dalam pantang kena adjust masa pam susu, ikat bengkung semua. mujur ada mama and kakak tolong tengok z.i masa I makan and mandi. malam pulak dia bangun setiap sejam dan menangis je. tido siang paling lama 20 min, tido malam paling lama 2 jam. naik risau tengok camtu. mujur la sekarang dah okey! syukur..
tok mama kesayangan z.i
tok mama ni mama I. z.i sangat manja ngan tok mama dia. bayangkan kalau z.i meragam tengah malam, jenuh hubby ngan I nak pujuk tapi ngan tok mama dia boleh senyap siap lena atas pangku tak sampai 5 min! sian mama terjaga tengah malam dengar cucu meraung. orang kata, baby ni kenal bau orang sekitar dia. maybe mama yang amik dia dari hospital hari tu, lagi banyak jaga dia masa dalam pantang, mandikan dia buat dia kenal & selesa + manja sangat!
buai laju-laju
since z.i ni payah sangat nak tido, tok mama dia selalu la dodoi and pangku dia sampai lena. bukan pangku saje,siap kena goyang lagi. aduii manja nyer! jenuh mommy nak keje nanti sape nak goyang? akibatnyer, tok abah gi Manjaku Gombak cari buai spring kat dia. kuikui! price cradle dalam rm136++ and cradle net rm22.00++. dah masuk buai z.i tanak tido kalau stop henjut. boley? boleh plak dia bukak mata kalau tak henjut buai tu.. huhu.. mula la terpikir, asal la tak beli buaian karen? takyah dok goyang : /
babylove blue cradle net with head zip
pacifier pulak dah
dah ada cradle pun tanak tido malam jugak. dis time betul2 tok abah and tok mama takleh tido. dia buat meragam dari pukul 12.30am sampai pagi. pukul 10.00am esoknya baru tido. tu pun sekejap2.. maka datang la idea tok abah untuk bagi dia pacifier@soother@puting! hahaha! cucu punya pasal bagi tok abah pening, tak cukup tido. esoknyer bukan tok abah je pi beli pacifier, tok mama pun belikan jugak tanpa plan *walaupun mommy at mula2 tak redha* mujur papa tak gi beli. tok abah cari kat Jusco Au 2, dia kata ni pacifier baeeek punya! Avent soother, price : rm 37.90 terkejut semua orang! yela, zaman dulu puting beli kat kedai runcit je rm 2 :p bentuk silikon ni lebih kurang teat botol z.i, tu dia pandai isap, sebab ramai yang cakap nb baby tak reti sangat. z.i ok je. tapi dia pun tanak sangat. boley la nak bagi dia stop nangis jap, sumbat je ;p
The nipple is shaped to let baby's tongue remain in natural position

With hygienic cap t

o keep sterilized nipples hygienic

The silicone is smooth, transparent, easy to clean and it doesn't get sticky

The nipple is strong, long-lasting and won't become mis-shapen or discolored over time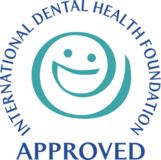 Our soothers have been approved by the International Dental Health Foundation. The foundation is a leading independent oral health charity that works to improve the standard of oral health care worldwide. The new advanced orthodontic teat was developed with leading orthodontist Dr. Hagemann
z.i banyak akal
zi tak tahan panas, nak aircond or kipas laju

kalau panas muka naik ruam, muka jadi merah terus dia meragam

doc advise jangan bedung dia nanti temperature naik boleh terus demam

kalau tido kena on kipas siling no 5 + kipas meja no 3

siang malam pakai baju lubang2 + short pant baru senang tidotak panas

tak suka selimut. dia boley terjaga if kita letak selimut time tido, terus mengamuk.
So far, banyak ragam z.i dah beransur hilang. orang kata budak baru lahir semua memang macam tu. terkejut jugak mula2 ingat sampai besar dia camtu, mau kurus mommy tak tido. first time tengok baby nangis macam kena dera masa dia colic awal2 dulu. genap sebulan dia boleh adapt dah, syukur alhamdulillah. tak sabar nak tengok development baby, apa plak la ragam dia lepas ni ;)